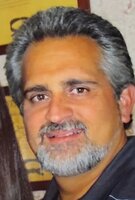 Eugene Saia
Eugene Saia, 58, of Rockville Centre, NY, passed away on Thursday, November 5, 2021.
Eugene was born on December 14, 1962, in Brooklyn, NY, to Salvatore and Eleanor Saia. He graduated from Rockville Centre's South Side High School in 1981. On April 5, 1992, he married Christina (Hodge) in Oceanside, NY. Eugene was employed by the Town of Hempstead Highway Department as the Forman for the Town of Baldwin. He enjoyed working, and only retired a few years prior to his passing. Eugene was an avid motorcyclist and car enthusiast. He also enjoyed the simple pleasures of movies, yard work, visiting the Poconos, and spending time with his wife and children.
Eugene is survived by his wife Christina, his son Jake, (fiancée Joie), and his daughter Maria. He is also survived by brothers Salvatore and Santo, sisters Joy, Margaret, and Eleanor. Eugene has many Bother-in laws and Sister-in laws. Also an Uncle to many nieces/nephews, a Great Uncle and a Great-Great Uncle.