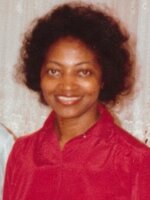 Magdaline C. Jenkins
Today, we are celebrating the life of Magdaline C. Jenkins, who passed from this earthly life on December 10, 2021.
Magdaline was born in Wilmington, N.C. on January 16, 1937. She was the third child of Clifton and Inez Williams (deceased). Her family relocated to Brooklyn, N.Y. in 1948. She was educated in the North Carolina and New York City school systems. Magdaline worked as a long distance telephone operator for the N.Y. Telephone Company until she married the love of her life Vincent Jenkins on September 14, 1957.
Magdaline and Vincent (lovingly called Sonny by family and friends) met as teenagers. Their love and friendship developed into a loving marriage lasting 64 years. Their marriage produced three dedicated sons, Vincent, Craig and Darrin.
Magdaline was a devout wife and mother and was faithfully devoted to all of her nieces and nephews. She was deeply loved and cherished by her family. She was preceded in death by her parent and brothers, Clifton Williams III and James Cherry Williams.
Magdaline will truly be missed by those left to mourn her: husband Vincent Jenkins; sons: Vincent, Craig and Darrin; devoted sisters: Alice Sales (N.Y.) and Ella Lockhart (N.C.); sister-in-law: Barbara Williams (N.Y.); aunts: Bernice Robinson (N.J.) and Ivory Bunche (N.C.); loving and devoted nieces and nephews, Lisa Penzellna, Pamela Lockhart, Monique Rosati (Clayton), Kim Sales (Tommy), Todd Lockhart, Barry Sales (Janel); grand-nephew: Myles Sales; grand-nieces: Chelsea Davis and Liliana Sales; great grand-niece: Saige Dennis; and numerous cousins and friends.
We thank God for the years she was with us. We wish her God's peace and love.