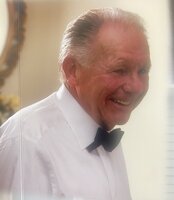 Edward Francis Fitzsimons II
Edward Fitzsimons, "Eddie Fitz", of Rockville Centre, New York died peacefully with his wife and children at his bedside after a courageous battle with COPD on Monday, December 20, 2021. Eddie was a beloved husband, father, grandfather (papa), brother and friend to so many.

Eddie was born in Brooklyn on September 25,1946 to Edward and Dolores (Constantine) Fitzsimons. In 1949 the family moved to Levittown, NY where he was raised with his older brothers John and James, sister Elin (Pye) and youngest brother Joseph. Eddie had a very special bond with each of his siblings which only strengthened over time.
While serving our country for the United States Navy in 1964, Eddie was introduced to the love of his life, Mary Tino, while home on leave visiting his family. In 1969, Mary and Edward married and went on to have four children, Mary, Christine, Michelle and John. Eddie was most proud of his children and the families they created and truly enjoyed spending time with his twelve grandchildren: Tonimarie, Peter, Samantha, Nicolas, Douglas, William, Michael, Mary Jane, Christopher, Dominick, Cecilia and Madeline.
It was no secret that Eddie loved a good party, and their home was always one to host the best around. An elaborate antipasto and a killer playlist made by Ed were the backbones to every great event. Their home was never quiet and always filled with laughter and grandkids, except for at 7:00 pm when Jeopardy was on and it was "saved for the commercials".
Ed was the truest form of an entrepreneur who was always planning ahead and working on the next deal. At the young age of twelve, he started his first successful business, a high-end car detailing venture right out of his family's driveway. Neighbors trusted young Ed with their Cadillacs, Lincolns and Thunderbirds. After returning from the navy, Ed opened his first delicatessen in Wantagh while simultaneously beginning his lifelong career in real estate. "If you love what you do, you'll never work a day in your life" was one of the many mantras Ed lived by.
He brought his quick wit and humor to everyone he met, and most of his best friends were made on the golf course. If you knew Ed, or even just knew of him, you know that golf was one of his greatest joys and passions. A member of Rockville Links Club on Long Island for nearly 50 years and of Pine Tree Golf Club in Florida for what would be 20 years in 2022, Ed took advantage of every opportunity to pick up a game, make a few bets and enjoy each day to the fullest.
There wasn't a minute Eddie wasted. Whether at the office, the gym, the beach, a restaurant or on the links, Ed was making friendships or sealing a deal and having a great time doing it.
By all of those who spent time with him, Eddie Fitz will be remembered for his charisma, motivation, healthy competition, strength, honesty and grace. But most of all, a man who adored his family.
Edward's life will be celebrated on Wednesday, December 22, 2021, at Thomas A Glynn & Son Funeral Home 20 Lincoln Ave. Rockville Centre from 2:00pm- 4:00pm and 7:00pm-9:00pm.
A funeral mass will be held on Thursday, December 23, 2021, at 10:45am at Saint Anthony's Roman Catholic Church 88 Anchor Ave, Oceanside, NY 11572
Edward was a proud veteran and his family has asked that in lieu of flowers, please support the Wounded Warrior Project.
https://support.woundedwarriorproject.org/Default.aspx?tsid=11585&ovr_acv_id=16591&campaignSource=ONLINE&source=BS21039AAABREAA&gclid=Cj0KCQiAk4aOBhCTARIsAFWFP9H5e4v0psL-yKS5Q1AqLRu63mHPZArp6esdSWmMK-9PNmeh_Y7INq4aArBgEALw_wcB&gclsrc=aw.ds