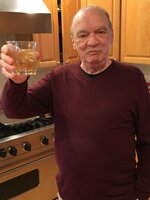 Alfred J. Ford
Alfred James "Al" Ford, Sr., 77, of Manchester, NJ, passed away on January 19, 2022, in Toms River, NJ.
Funeral service will be held at St. Agnes Cathedral on Saturday, January 22, 2022, at 10:30am with Reverend Duffy of St. Agnes officiating. Visitation will be held at 20 Lincoln Avenue, Rockville Centre, NY 11570 on Friday, January 21, 2022, from 6pm – 9pm. Thomas A. Glynn & Son Funeral Home will be handling the funeral arrangements.
Alfred was born in Flushing, NY to Alfred and Marion Ford on January 1, 1945. He went to Holy Cross High School in Flushing, NY and graduated in 1963. He worked as a police officer for the New York City Police Department for 20 years, retiring in 1987 and then went on to start his own successful tile business for 15 years in New Hyde Park, NY. He enjoyed his time with friends and family, especially his 6 grandchildren. He was also passionate about fishing, and his favorite sports teams the Mets, Rangers, Giants and St. John's University basketball.
Alfred is survived by his daughter Pam Tigar and husband Don of Manasquan, NJ; son Al Ford and wife Debbie of Rockville Centre, NY; grandchildren AJ, Ben, Charlie, Abby, Cate & Cali and sister Kathleen Ferrone and several nieces and nephews. He is preceded in death by his wife Jane, mother Marion and father Alfred, sister Marion, brother Michael and brothers-in-law Jim Boyd, Luke Ferrone and Charlie Rosencrans.
Memorial donations may be made to the New York City Police Foundation, 555 Fifth Avenue, 15th floor, New York, NY 10017 or by visiting https://www.nycpolicefoundation.org/
The family wishes to extend their gratitude and Al will be sadly missed.