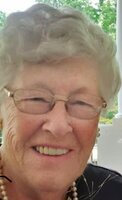 Lois Carlsen
Lois M. Carlsen, 85, passed away peacefully on June 9th at The Eastern Star Home in Oriskany, NY. She was a lifelong resident of Rockville Centre.
Lois had been a dedicated member of The Order of Eastern Star for over 60 years. She held many prominent positions including Most Worthy Grand Matron of New York State. Words cannot express how much the Eastern Star meant to her. The only thing that rivaled her love for the Eastern Star was the love she had for her family. The other passion in her life was that of her church, the United Church of Rockville Centre, where she had been a very active member of the congregation since it was first established in 1986. She was an Elder of the church and a member on The Board of Deacons. She proudly served her church in other leadership roles as well
She is survived by her brother Willard, 4 nieces, 1 nephew , 6 grandnieces, 6 grandnephews, 2 great-grand nieces and 3 great-grand nephews.
In lieu of flowers the family requests donations be made in Lois's name to the following
United Church of Rockville Centre
430 Morris Ave
Rockville Centre, NY 11570
Eastern Star Hall and Home Foundation
Pounder Hall 106
1400 Utica St.
Oriskany, NY 13424